Part 1: Non-Public Charging
Business processes and systems have often grown over decades.
Subareas are sometimes only known to the employees entrusted with them.
Other processes seem obvious, but are not formalized.
In almost every IT project – whether "green field" or "historically grown" – we therefore start by creating a business concept map.
A business concept map clarifies the technical processes at a glance. It helps people involved in discussing them. And it is fun – because misunderstandings are less common.
If you like, you can print the business concept map in DIN A0 or larger and hang it on the wall: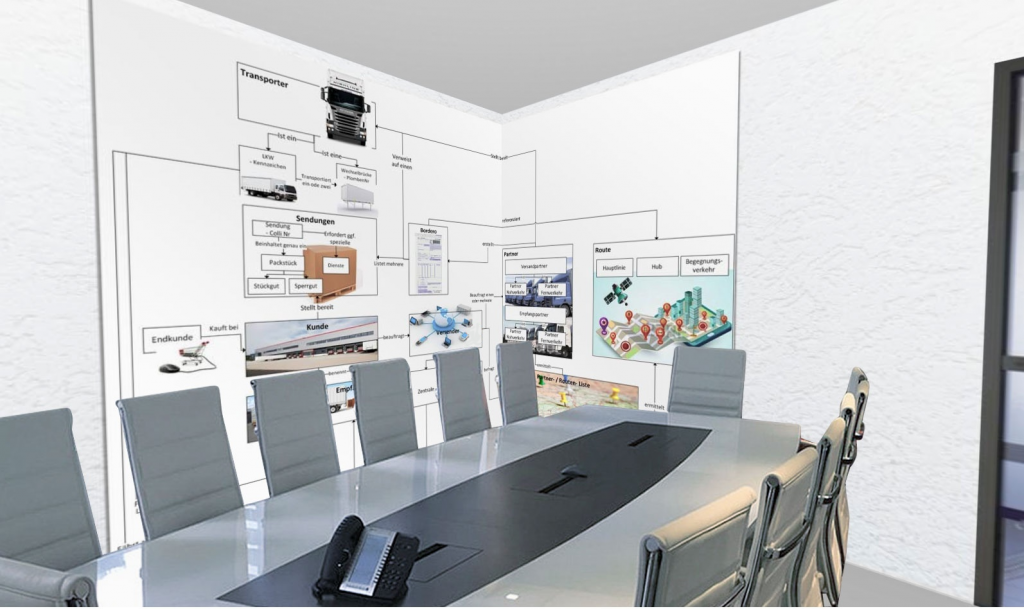 In this article, we will gradually develope a business concept map in the context of electromobility.
You are welcome to use the toolbox you have developed for your own purposes. Just contact us!
Charging at a Private Wallbox
Let us begin with the most simple situation: The personal wallbox in a private garage.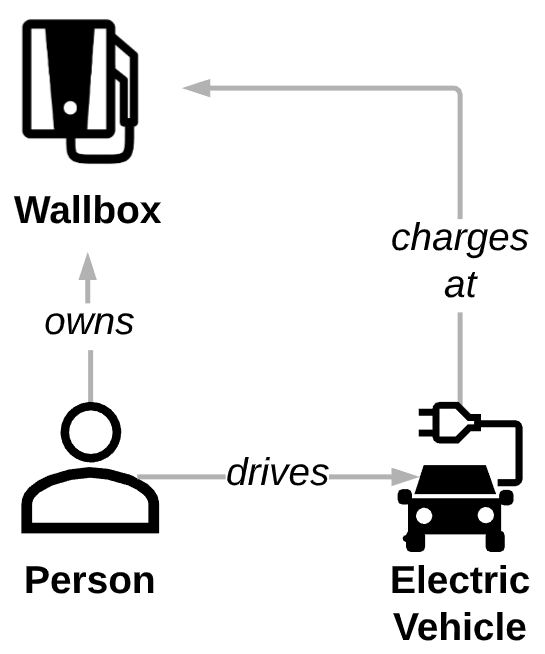 In a private garage there is usually no need for authorization ("plug 'n' charge mode"), remote monitoring, billing or receipts. So you can simply install a "primitive" wallbox (in the sense of non-smart). Those who are willing to forego the performance and safety of a wallbox can even charge their vehicle from a household socket.
The Smart Wallbox
In the age of Internet of Things (IoT), in which every electronic device is connected to the Internet, this approach will remain an exception. At the latest in a professional environment, charging stations are connected to a central Chargepoint Management System. The wallbox needs a modem and a micro-controller for this. It is often referred to as "intelligent" or "smart" because it can do more than just deliver electricity. The connection is made via LAN or a SIM card for data transfer.
Fortunately, there is a quasi-industry standard for the ICT connection of charging stations: the Open Charge Point Protocol (OCPP). Our concept map now looks like this: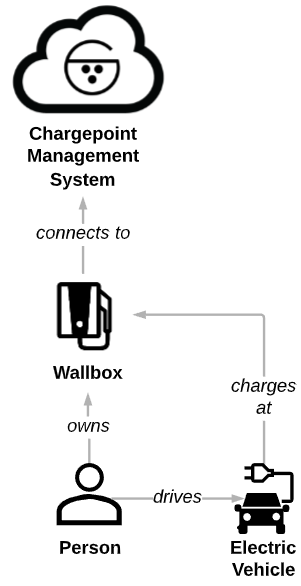 In the most simple case, authorization is done using an RFID-card
Of course, you can also operate your own wallbox using an app. In addition to authorization and remote control, this has the decisive advantage of being notified by the system whenever there is no more electricity flowing ("charging idle") or whenever the energy management has intervened: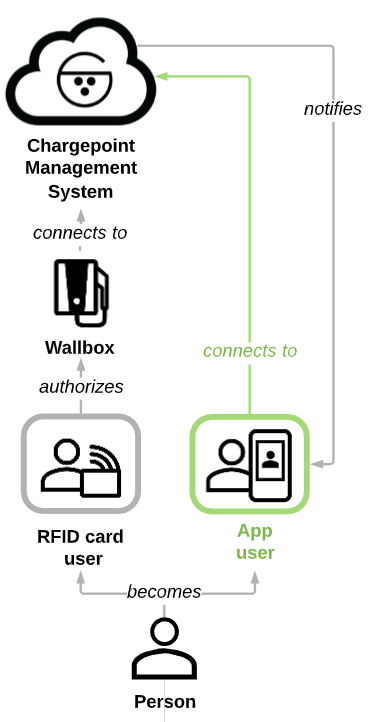 Super-User and Operator of Charging Infrastructure
A super user can use the admin portal to connect additional charging stations to the system, to authorize additional usage-media, and to do many other things: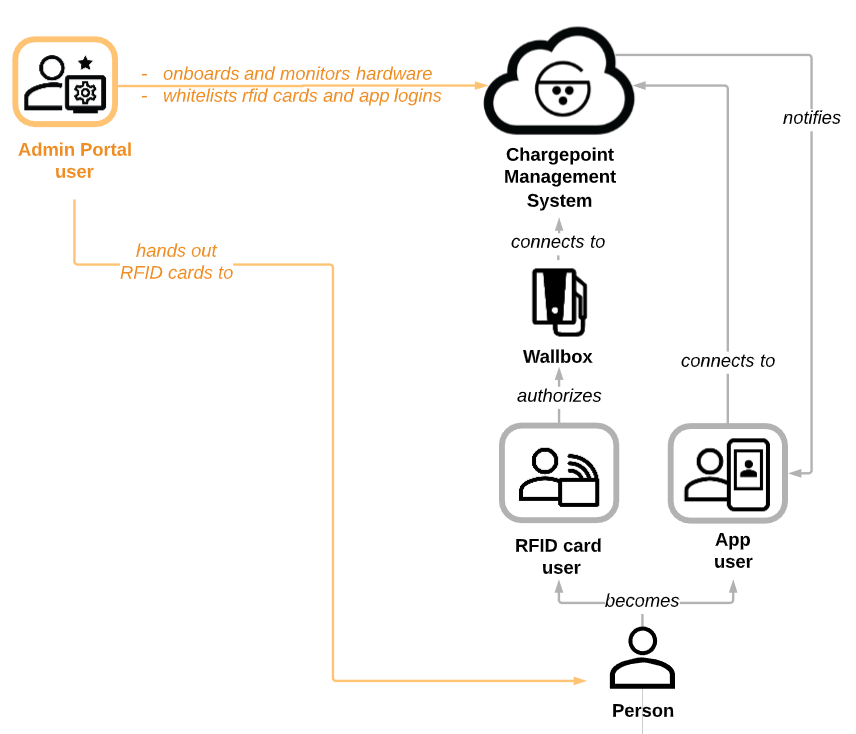 The super user, in turn, is appointed by the so-called charge point operator (CPO). The CPO acts as the operator of the charging infrastructure: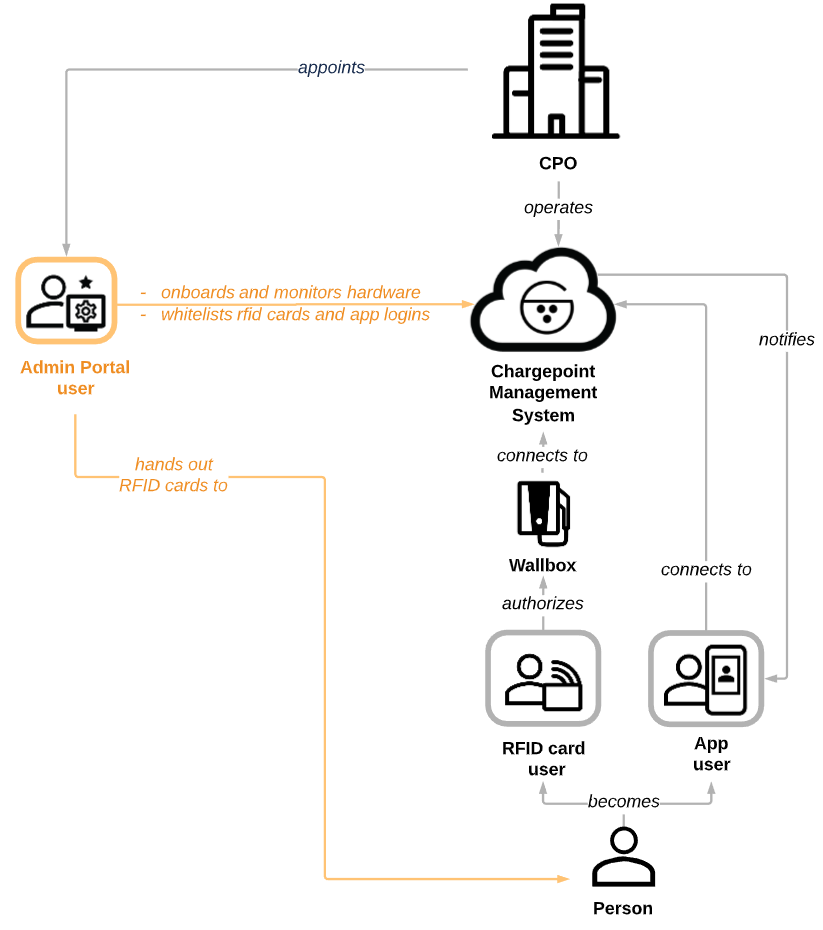 We have thus developed the first business concept map. It maps a non-public charging infrastructure – for example the charging stations on a company car park. The operator also acts as an Electro-Mobility Provider (EMP) – but only for closed user groups.